Christmas ornament wreaths are the perfect
way to use those old, chipped
ornaments and turn them into something new and beautiful!
Here's how to do it:
~ First, attach a wire to your wreath base.
This will serve as the wreath's hanger.
~ You can use any type of wreath base. Straw works well. (The first wreath shown in the photos below was built upon an existing old wreath)
~ Next, use a low temp glue gun or E600 adhesive (better for glass ornaments) to attach ornaments to the wreath base.
~ Attach the largest ornaments first, then use the smallest ornaments to fill in the gaps.
That's it! Check out the collection of wreaths below for inspiration!
Pretty vintage ornament wreath by Everyday Beauty
What pretty colors! Get the directions to make this wreath from Canadian Living here!
Christmas wreath made from vintage tree ornaments by Suzy at Georgia Peachez Wreaths
To me, old ornaments are treasures...no matter paint chips or imperfections...
I like the ribbon hanger on this pretty ornament wreath
Christmas wreath loaded with vintage jewelry and ornaments by Sweetlenasretro via Etsy
Pink, purple, and blue Christmas wreath by FineTouch via Etsy
The color combinations are endless...this one is from Livingartfuly
Not just for doors - this wreath looks great displayed on the wall
Heart shaped red ornament wreath by WruffledWren via Etsy
I like how this wreath includes the elf and glitter house
What a pretty display! from BHG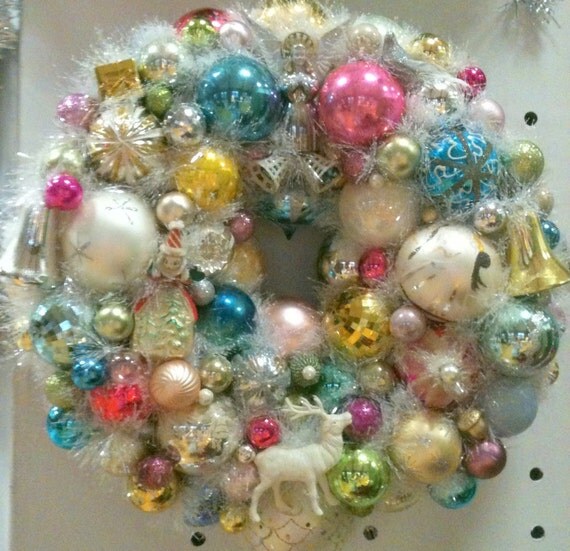 Cottage chic feather-like vintage ornament wreath by MakeMoxie via Etsy
Cheery Christmas wreath by judyblank via Etsy
Technicolor ornament wreath by Brightbazar
I love the look of this thin, silvery wreath
Pin this post!
What do you think?