Plate walls are simple to make and cost next to nothing - they are also no longer limited to kitchen or living room walls...
But I don't have any plates!
Find them at yard sales, thrift shops, or online.
I don't know where to start!
To coordinate plates with your room, pick a color from your room's decor - your rug or curtain fabric, and go from there. Or, you might want to contrast plates with your wall color. Check out this collection of wall displays and be inspired!
These dainty rose floral plates are perfect for this shabby desk and chair
Quaint display
Love: Plates with words. via Bees Knees
This dining room wall is covered with bright plates
Blue and white transferware from Nancy's Daily Dish
Keeping it simple
This plate display was wrapped around the corner and to the next wall
Kitchen plate wall
Lovely spring mantle display via Martha Stewart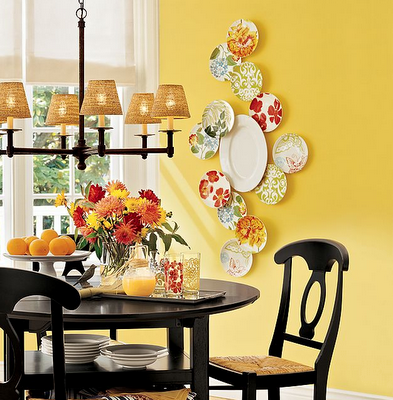 Plate wall display coordinated with surrounding furnishings completes the look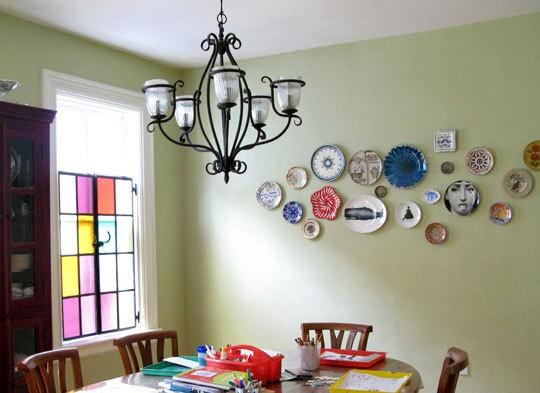 Mix whimsical plates with traditional plates for an eclectic, Bohemian look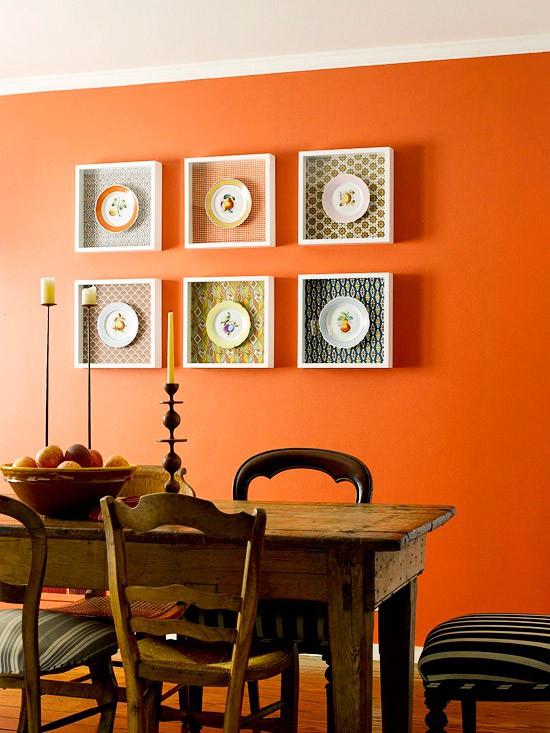 These framed fruit plates have an elegant, uniform look - even with their variety of colors and patterns.
Framed plates
This clever crafter spray painted thrift store plates to create a rainbow of color.
Plates displayed in a narrow space
These plates and trays, tightly displayed - are all tied together with a theme
Another tight/overlapping display. via BHG
Unique or unusual plates add interest
Plates in a line look organized and are different from the displays you commonly see
Another example of a linear wall arrangement
Instead of plates, tureen lids are displayed in this small bath
This massive outdoor plate wall display makes a statement
Contrast
These multicolored plates work well with the brightly painted piano
Decoupage old photos to plates for a personalized display
Decoupage words on plates. I am going to do this with some favorite poems and song lyrics.
Painted house numbers on an old platter
Outdoor plate wall
How to hang plates:
Check out my YouTube video for easy instructions!
What do you think?
Are you going to dish it out?
I hope you have a great week