Vintage Halloween postcards
transformed into unique jewelry
(don't worry - no original post cards were harmed in the process!)
I love the change in season from summer to fall. By late August/early September our local

grocery store already has Halloween candy on display! Is it a bit too early for that? Maybe, but

the lure of Halloween is one that I'

ve

always found especially charming. I love

vintage Halloween items. Decorations, masks, costumes and postcards from years past

have quite a different charm than those we see today.
The nostalgia of yesteryear is apparent in these vintage

collectibles

, and for many, brings

back memories of childhood fun and games, costumes and trick-or-treating.
Halloween truly is a timeless holiday. What other time of year allows us to be something we

are not, to fully use our imagination and allow reality to slip away, even if just for one night?
Halloween Postcards
I once read somewhere that Halloween collectibles are more desirable than collectibles from any other holiday, with Halloween postcards being some of the most sought after items do to their rarity. The illustrations and color lithography on these cards are beautiful.
Depictions of witches, black cats, jack'0 lanterns, as well as fortune games and scenes of
children bobbing for apples are common designs. I personally am intrigued by those with
anthropomorphic figures; the corn-cob man and the grinning pumpkin head girl, vegetable
people with smiling faces.
It's amazing to think that at one time (around the late 1800's and on) Halloween postcards were once as popular as Christmas cards!
Be sure to check out my Halloween Postcard Jewelry. A few of them are reversible, with a different vintage Halloween image on each side. Others feature a single image on one side. Each is very cool!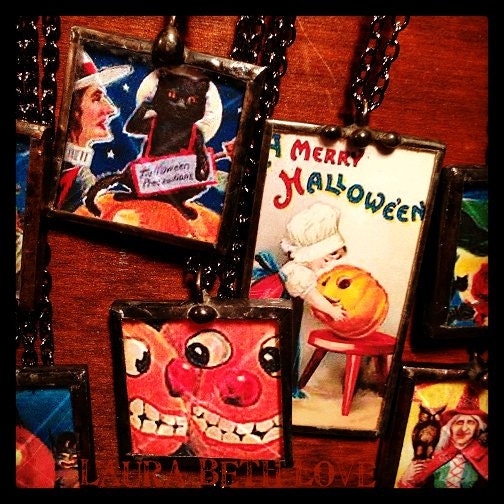 I'

ve

been making jewelry from antique and vintage postcards for a number of years now, and
in my opinion, the Halloween images are the most intriguing than those of any other
holiday. (Aside from Halloween I also make them with Christmas, Easter, Valentine's Day
and St. Patrick's Day postcards) …And don't worry, no original postcards are harmed in the
process!
What do you think?
Have a great week & Happy Fall!
Laura
article
copyright ©Laura Beth Love 2017 all rights reserved